Bharat Ratna Avul Pakir Jainulabdeen Abdul Kalam, generally known as Dr. A.P.J. Abdul Kalam (15 October 1931 – 27 July 2015), was the 11th President of India (2002-2007). A scientist turned statesman, Kalam was born and raised in Rameswaram, Tamil Nadu, and studied physics and aerospace engineering. He worked with the Indian Space Research Organisation (ISRO) and Defence Research and Development Organisation (DRDO) as an aerospace engineer before becoming the President of India. He was known as the Missile Man of India for his work on the development of ballistic missile and launch vehicle technology.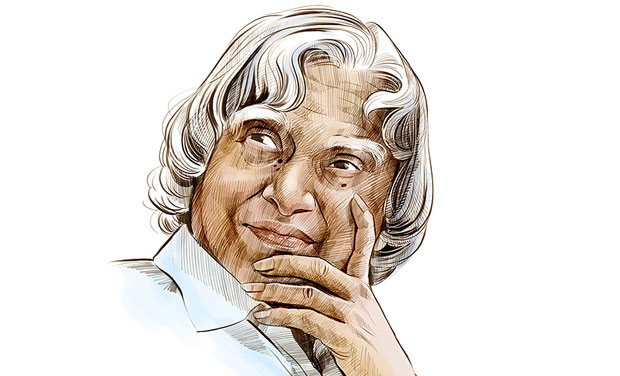 In his book 'India 2020', he recommended plans to make the nation a fully developed one by the year 2020. His interactions with the student community and his motivational speeches made him quite popular among the youth. In 2011, he launched a mission called 'What Can I Give Movement' aimed at the youth of India, which focused on defeating corruption in the country.
While delivering a lecture at the Indian Institute of Management Shillong, Kalam collapsed and died from an apparent cardiac arrest on 27 July 2015, aged 83.
Here are most famous and inspirational Dr. Apj Abdul Kalam Quotes.



1. You can not change your future, but you can change your habits, and surely you habits will change your future.
2. You have to dream before your dreams can come true.
3. Man needs his difficulties because they are necessary to enjoy success.
4. Look at the sky. We are not alone. The whole universe is friendly to us and conspires only to give the best to those who dream and work.
5. We should not give up and we should not allow the problem to defeat us.
6. Excellence is a continuous process and not an accident.
7. Great dreams of great dreamers are always transcended.
8. Unless India stands up to the world, no one will respect us. In this world, fear has no place. Only strength respects strength.
9. Economy forced me to become a vegetarian, but I finally starting liking it.
10. Those who cannot work with their hearts achieve but a hollow, half-hearted success that breeds bitterness all around.
Images collected from web