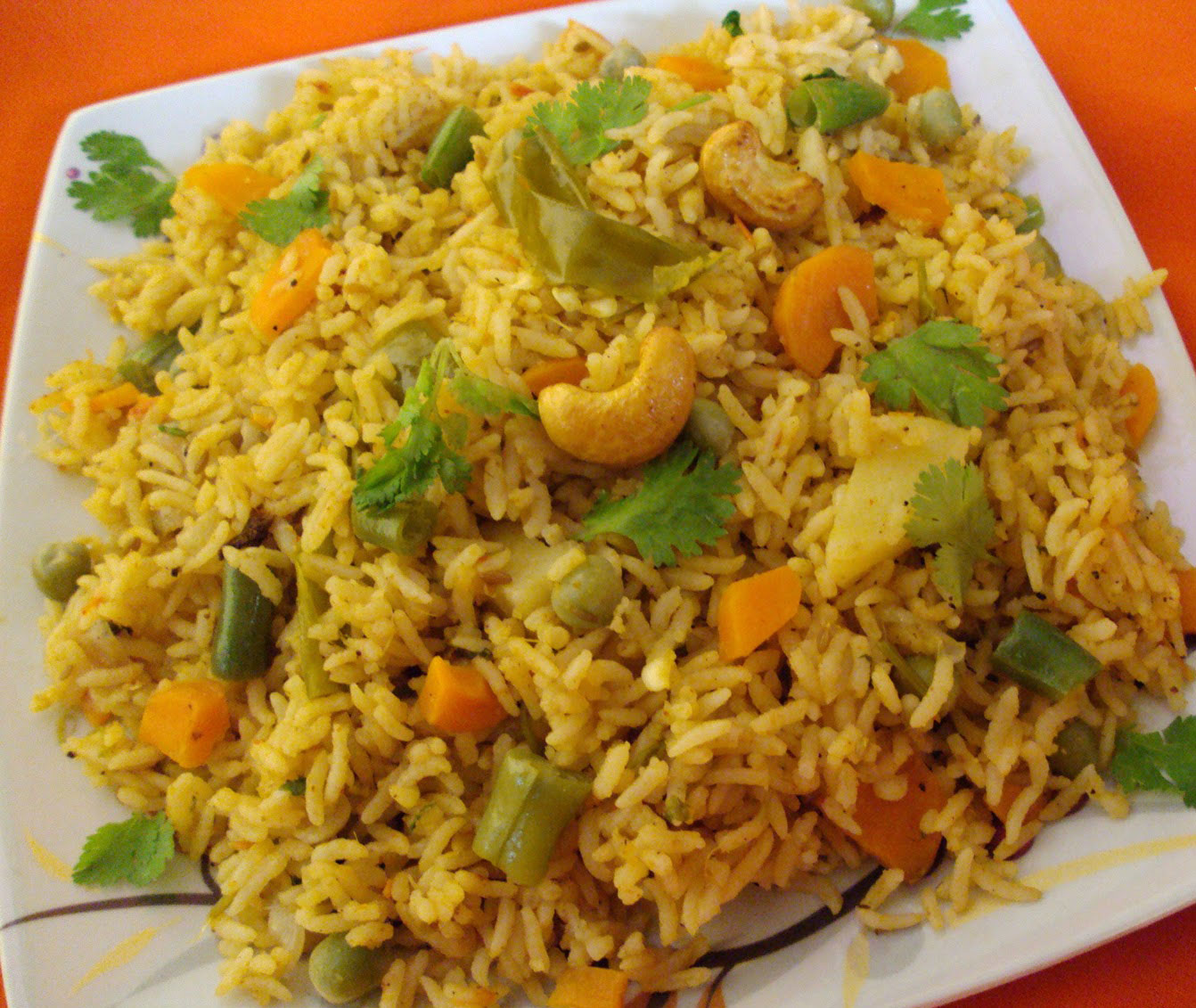 Veg biryani recipe
– This is one of the favorite among the vegetarians and we get to see a variety of vegetarian biriyani served in restaurants. A hyderabadi vegetable dum biryani is a royal dish that is aromatic and delicious. Making a vegetable biryani can be as simple as a biryani in a pressure cooker or one that is prepared with a fresh ground masala or can be a dum cooked veg biryani too.
Vegetable dum biryani is quite popular across the world. Even if you love the non-veg versions you may try this one too.
To make a veg biryani that is aromatic, we need to use the best quality spices and basmathi rice. Veggies like carrots, peas, potato, cauliflower and beans go well for making a vegetable biriyani. Avoid using veggies like brinjal, mushrooms or capsicums unless you have a personal liking towards them. You can also use soya chunks or meal maker nuggets if you like.
how to make veg biryani recipe [step by step]
1. Wash and soak rice for at least 30 mins. While the rice soaks you can go ahead with the next steps.
2. Fried onions are highly recommended for making a good hyderabadi biriyani. The aroma of these fried onions is great and cannot be substituted with any other ingredient and not even with pan fried onions. Thinly slice onions and fry them in hot oil until they turn crisp and golden. Set aside. These are also sold in super markets as fried onions (not onion flakes).
3. You can also shallow fry, this is how you can do it if you like to shallow fry. Heat oil in a pan. Add even & thinly sliced onions. Also separate the layers before adding.
4. Fry them until golden and brown. Do not burn. Keep stirring often to evenly brown them and prevent burning.
5. Set aside half of these. Move the rest of the onions to a side in the pan. Off the stove for a while to prevent burning the spices.
6. Add all the dry spices except shahi jeera. Sauté till you get an aroma. Takes around a min, do not burn. Add shahi jeera and sauté until they crackle.
7. Sauteing dry spices for aroma in veg biryani recipe
8. Switch on the stove and lower the flame. Add ginger garlic paste.
9. Saute till the raw smell goes off. Keep stirring.
10. Add all the vegetables and fry for 2 to 3 mins.
11. Add turmeric, salt, red chili powder and biryani masala powder.
12. Fry till it turns aromatic for about 2 to 3 minutes.
13. Pour 100 ml yogurt. Set aside rest of the yogurt for further use. Mix Well.
14. Cook covered till the veggies are cooked al dente, just cooked. Cook covered if needed. Do not overcook the veggies. Off the stove when done. While the veggies are getting cooked, you can proceed with the next step.
15. In a large pot, bring 5 cups of water to boil, add oil, salt, shahi jeera and bay leaf. Adjust the salt as needed.
16. Add washed, soaked and drained rice.
17. Cook this rice till it is ¾ done or al dente (just cooked). You must be able to get a bite into the rice.
18. Drain off the excess water and set aside. You can soak saffron in 2 tbsp of this hot water or in hot milk. Set aside.
19. Make sure the veggies are cooked al dente. If you like to make a 2 layer biryani, set aside 1/3 of the cooked veggies. If you are using a small pot for dum, then it works good to set aside half, If you use a wide pot, then just go ahead making a single layer.
20. Add the rest of the curd, mint and coriander leaves to the dum pot.
21. Mix well. Spread it well evenly.
22. Layer half of the rice, If you have set aside half of the curry then layer it now, if you have not set aside then just sprinkle 2 pinches of biryani masala powder. Then sprinkle few fried onions, mint and coriander leaves.
23. Repeat layering rice, mint, coriander leaves, fried onions and then pour soaked saffron milk.
24. I fried cashews in a small pan in hot ghee, then added raisins towards the end. Poured the ghee and then the nuts raisins over the rice evenly. You can also add a tsp of kewara water for mughalai flavors.
25. Begin to heat an old heavy bottom tawa and proceed with the next step.
26. Cover the pan with 2 thick moist kitchen towels or just seal with aluminium foil. Place the lid and a heavy object on the lid. I do not place any heavy object, as my lid itself is very heavy. Or you can make dough made of wheat flour. Moisten the rim of the pan, place this dough around the rim and place the lid over it. Press the lid tight so that it sticks to the dough tightly and no steam vents out. I do not prefer to do this as this mess up the pan and cleaning is a great pain. Move this pan to the hot tawa, cook on medium flame for 5 mins. Set the flame to low. Cook this way for 5 to 7 mins. Allow it to rest for at least 15 mins.
Veg biryani is now ready to serve. You can mix up the entire rice and veggie mixture for even flavoring and spice. You can also serve it without mixing. Just serve from the bottom to the top in portions. Make sure each serving gets a proportionate amount of spiced veggies and rice.
Veg biryani can be served with a raita or shorba
Ingredients (240 ml cup used)
1 tbsp. ginger garlic paste
1 tsp of biryani masala powder or garam masala(any ready made powder is ok, adjust to suit the spice levels)
⅓ tsp red chili powder (adjust as needed)
⅛ tsp turmeric
1 cup or 250 ml yogurt / curd / dahi (not very thick and not very thin)
4 tbsp. ghee or oil
Few saffron strands
3 tbsps hot milk or water to soak the saffron strands
Raisins as needed
Cashews as needed
Fried onions
1 large onion thinly sliced about ½ to ¾ cup or store bought fried onions
Veggies
8 medium sized cauliflower florets
1 large boiled potato cubed (peel the skin and boil till ¾ done)
1 large carrot chopped
Fistful of green peas
4 to 5 beans chopped
1 ½ tbsp. Mint leaves / pudina minced
2 tbsp. Coriander leaves chopped very finely
2 green chilies slit
Dry spices
2 inch cinnamon stick
4 green cardamoms
1 black cardamom
2 big strands of mace
1 star anise
6 cloves
1 bay leaf
½ tsp shahi jeera
Cooking rice
1 ½ cups aged basmathi rice
¼ tsp shahi jeera
1 bay leaf
Salt to taste
Instructions
Thinly slice onions and fry them in oil till golden and crisp. Set these aside half of this. If you are using store bought fried onions, you can skip this
In the same pan, add spices and saute till they begin to sizzle.
Add ginger garlic paste and fry till the raw smell goes off.
Add parboiled potatoes and the rest of vegetables. Fry for 2 to 3 minutes.
Add turmeric, biryani masala powder and red chili powder. Mix and fry well for 2 minutes till you begin to get an aroma.
Pour 100 ml yogurt and mix. Cook till the vegetables are done to tender. You can cover and cook. Cook uncovered if there is lot of moisture after the veggies are cooked.
While the veggies cook. Bring lot of water to a boil and cook rice till al dente along with bay leaf and shahi jeera. The rice has to be cooked grainy and not mushy. Drain it off in a colander. Soak saffron in 3 tbsps of this hot water or hot milk. Set aside.
If you like to make a 2 layer veg biryani, set aside ⅓ of the cooked vegetable mix. Now mix together the rest of the cooked veggies, rest of the yogurt, mint, coriander, nuts and raisins, few fried onions. you can do it in a pressure cooker or any heavy bottom utensil.
Layer the rice over the vegetable mix. Then layer the ⅓ cooked vegetable mix or 2 pinches of biryani masala powder. Sprinkle some fried onions, mint and coriander.
Layer rice over it again, then the fried onions, mint and coriander leaves and pour off the saffron milk. Fry nuts in a tbsp ghee, saute raisins and then pour this over the rice. Place a moist clean cloth to seal the rim. You can even use a foil or atta to seal the utensil.
Place the dum utensil on a hot tawa and cook for 5 minutes on a medium flame and then on low for 5 to 7 minutes based on the thickness of your utensil.
For the oven method: preheat the oven to 180 C and bake for 20 mins. if you feel it is still very moist beneath, bake for another 5 to 10 mins. This depends on what kind of baking dish you use. Usually ceramic ones get done faster.